If you would like to try out one of our latex foam cushions before you order a set, you may purchase one randomly selected sample dining chair pad, plus up to five small fabric swatches of your choice, for the cost of regular shipping and handling, (contact customer service for a discount coupon code equal to $24.90 off).
Don't forget to add your 5 free fabric swatches to your shopping cart before checkout! Your free sample cushion coupon is also your free swatches coupon, you only need to enter the free sample cushion coupon code at checkout.
Care: Assorted, See Care Label for Care Instructions
Content: Assorted, See Care Label for Content
Origin: Assorted; Made in USA with domestic or imported fabrics
Use:
Offer limited to one sample cushion per customer, first time customers only. Sample cushion fabric color and pattern are assorted and randomly selected. While supplies last. Sample cushions are non-returnable.
Free Fabric Swatches
Many factors influence how colors appear, from differences in your screen settings, to differences in the ways individuals perceive color, to lighting and surrounding colors in your home. We strongly recommend requesting fabric swatches before ordering home decor online.
We Make Cushions That Last Longer
In 1889, our founder insisted on using premium quality materials and superior construction methods to produce a more durable product. We're proud to uphold these traditions today.
Customer Reviews
Write a Review
Ask a Question
04/04/2020
Sherry V.

United States
Chair Cushions
The cushions that I ordered are of very high quality and I would recommend this company to anyone interested in chair cushions.
Great Product
The cushions have high-quality foam that retain their shape, unlike most others on the market. And the covers are beautifully made. I highly recommend.
Try it before you buy it !
Absolutely the best !! The products are superior !
Excellent dining room chair cushions
We have been enjoying our super-comfortable camel micro-suede dining room chair cushions. We ordered a sample cushion and fabric samples which helped us order exactly the best size and color for our dining room. Customer service was great. The soft golden "camel" color glows. We thought the light color might show dirt easily, but it's easy to keep them clean with a hand-vac. Kitty loves them, too. They are well worth the price.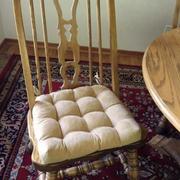 A Great Way to Try Out a Chair Cushion
I have over-sized, wooden kitchen chairs and needed large cushions. After unsuccessfully searches, I discovered Barnett Home Decor online. The "Try It Before You Buy It" option was great....I got one large cushion (which fit perfectly, and I now use in my office), and fabric swatches. We wound up purchasing 4 large seat cushions, and are very happy with their quality and comfort. Their customer service was excellent, too. I highly recommend Barnett's chair cushions and suggest you "Try It Before You Buy It".