Select Up to 5
Free Fabric Swatches
Many factors influence how colors appear, from differences in your screen settings, to differences in the ways individuals perceive color, to lighting and surrounding colors in your home.
We strongly recommend requesting fabric swatches before ordering home decor online.
Get Free Swatches
with 50 American-Made fabric options
Made in USA
Unlike some of our "Made in USA" competitors, who actually send pieces out to be cut or sewn in foreign countries, every step of our manufacturing process occurs at our own facility.
Our home decor is designed, cut, sewn, filled, finished, warehoused and shipped from our factory in the historic Bellevue Mills building in Macon, Georgia, USA.
A Tradition of Quality
Learn how we uphold our founders mission to craft a more durable, more resilient cushion.
Why choose Barnett Home Decor?
Established 1889
130 years ago we were famous for our mule collar pads, but for the last 60 years, we've been better known for our chair pads.
About Our Story
Woman-Owned
As a family operated business, we don't need to cut corners to please shareholders, we only need to please our customers with our quality.
About Our Team
Sustainable
Our latex foam fill is made from 100% pre-consumer recycled materials. We do not add chemical treatments to our products.
About our Products
Customer Reviews
02/08/2019
Donna D.
United States
Great Product
The cushions have high-quality foam that retain their shape, unlike most others on the market. And the covers are beautifully made. I highly recommend.
08/13/2018
Deborah T.
United States
Try it before you buy it !
Absolutely the best !! The products are superior !
07/03/2018
Leslie O.
United States
Excellent dining room chair cushions
We have been enjoying our super-comfortable camel micro-suede dining room chair cushions. We ordered a sample cushion and fabric samples which helped us order exactly the best size and color for our dining room. Customer service was great. The soft golden "camel" color glows. We thought the light color might show dirt easily, but it's easy to keep them clean with a hand-vac. Kitty loves them, too. They are well worth the price.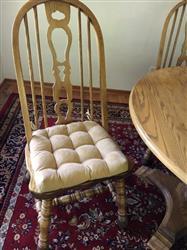 06/21/2018
Linda C.
United States
A Great Way to Try Out a Chair Cushion
I have over-sized, wooden kitchen chairs and needed large cushions. After unsuccessfully searches, I discovered Barnett Home Decor online. The "Try It Before You Buy It" option was great....I got one large cushion (which fit perfectly, and I now use in my office), and fabric swatches. We wound up purchasing 4 large seat cushions, and are very happy with their quality and comfort. Their customer service was excellent, too. I highly recommend Barnett's chair cushions and suggest you "Try It Before You Buy It".
NM
05/28/2018
NANCY M.
United States
Cushion
Great idea, loved it