---
If you would like to try out one of our latex foam cushions before you order a set, you may purchase one randomly selected sample dining chair pad, plus up to five small fabric swatches of your choice, for the cost of regular shipping and handling, (contact customer service for a discount coupon code equal to $27.20 off).
Please click here see full offer details and FAQs section
Sizes & Dimensions
Approximate Dimensions
Size Standard: 15"D x 17"W x 2.5"H 
Size Extra-Large: 16.5"D x 18"W x 2.5"H
Specifications
Content: Assorted, See Care Label for Content
Origin: Assorted; Made in USA with domestic or imported fabrics
About
The sample cushion will be a dining chair pad. Rocking chair cushion samples are not available.
The sample cushion will be randomly selected from our supply of retired photo samples and prototypes; it could be any pattern or color.
You will receive up to 5 fabric swatches of your choice with the sample cushion.
The sample cushion is yours to keep; use it for your desk chair, use it as a pet bed, or give it to an elder or a student who would appreciate a more comfortable seat.
Contact customer service for a coupon code to get $24.90 off your sample cushion, you pay only shipping & handling.
Customer Reviews
02/08/2019
Donna D.
United States
Great Product
The cushions have high-quality foam that retain their shape, unlike most others on the market. And the covers are beautifully made. I highly recommend.
08/13/2018
Deborah T.
United States
Try it before you buy it !
Absolutely the best !! The products are superior !
07/03/2018
Leslie O.
United States
Excellent dining room chair cushions
We have been enjoying our super-comfortable camel micro-suede dining room chair cushions. We ordered a sample cushion and fabric samples which helped us order exactly the best size and color for our dining room. Customer service was great. The soft golden "camel" color glows. We thought the light color might show dirt easily, but it's easy to keep them clean with a hand-vac. Kitty loves them, too. They are well worth the price.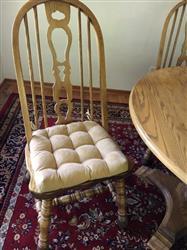 06/21/2018
Linda C.
United States
A Great Way to Try Out a Chair Cushion
I have over-sized, wooden kitchen chairs and needed large cushions. After unsuccessfully searches, I discovered Barnett Home Decor online. The "Try It Before You Buy It" option was great....I got one large cushion (which fit perfectly, and I now use in my office), and fabric swatches. We wound up purchasing 4 large seat cushions, and are very happy with their quality and comfort. Their customer service was excellent, too. I highly recommend Barnett's chair cushions and suggest you "Try It Before You Buy It".
NM
05/28/2018
NANCY M.
United States
Cushion
Great idea, loved it