Select Up to 5
Free Fabric Swatches
Many factors influence how colors appear, from differences in your screen settings, to differences in the ways individuals perceive color, to lighting and surrounding colors in your home.
We strongly recommend requesting fabric swatches before ordering home decor online.
Get Free Swatches
with 50 American-Made fabric options
Made in USA
Unlike some of our "Made in USA" competitors, who actually send pieces out to be cut or sewn in foreign countries, every step of our manufacturing process occurs at our own facility.
Our home decor is designed, cut, sewn, filled, finished, warehoused and shipped from our factory in the historic Bellevue Mills building in Macon, Georgia, USA.
A Tradition of Quality
Learn how we uphold our founders mission to craft a more durable, more resilient cushion.
Why choose Barnett Home Decor?
Established 1889
130 years ago we were famous for our mule collar pads, but for the last 60 years, we've been better known for our chair pads.
About Our Story
Woman-Owned
As a family operated business, we don't need to cut corners to please shareholders, we only need to please our customers with our quality.
About Our Team
Sustainable
Our latex foam fill is made from 100% pre-consumer recycled materials. We do not add chemical treatments to our products.
About our Products
Customer Reviews
10/21/2019
Jeanne C.
United States
You came to rescue on chair size fit
I had spent t hours searching on line for a cushion shape and size to work for our sort of barrel shaped deck chairs. You offered many shape & size options. Cushions are heavier & denser than we expected so these likely will last forever.
10/10/2019
gmwtwe@gmail.com H.
United States
Serves its purpose
The cushion are comfortable and cover the seat however they do tend to slip back leaving the cold edge of the chair uncovered.
10/15/2019
Barnett Home Decor
Thank you for your review and your feedback. These cushions are pretty good at staying in place on a wicker chair without ties, but if you have them on a plastic Adirondack chair or if for any reason they are slipping please try placing a slip of gripper shelf liner or rug liner, or a silicone trivet or baking sheet under the cushion. This solves the problem for us in the photo studio when we need to photograph a cushion on a steeply angled surface!
09/30/2018
Nancy J.
United States
Barnett Home Decor fabulous quality!
I am very, very pleased with both the blue chair cushions and the beautiful pine cone lumbar pillows I had purchased previously! In fact, I believe Barnett Home Decor to be an exceptional company and have never been anything but delighted with any purchase! I will keep coming back and will recommend to family and friends. Great fabrics, top notch workmanship, great design choices and perfect fit!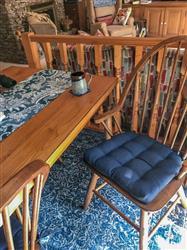 06/01/2018
Linda G.
United States
Nice Chair Cushions
I spent a lot of time selecting cushions for my breakfast area. The chair size was larger than all that I could find in stores. Also, most I found online were too small. I came across the Barnett Home Decor company by luck. They have a variety of sizes. They respond to email questions. They send you fabric samples upon request. I found the perfect cushions from them. In addition the cushions are excellent. They are much thicker than most and they retain their shape. I couldn't be happier with these cushions. I highly recommend them.
02/13/2018
MARCIA D.
United States
Beautiful, high quality cushions!
You graciously accommodated my request that we receive these cushions in time for our big family holiday dinners. Although we left shortly thereafter for a few months in warmer weather, I can tell you that everyone noticed the cushions, especially because they provided a better chair height with our big table. The fabric samples you sent quickly helped me select a color that coordinated well with both the wood on the table and the multi colored oriental rug in the dining room. I am very pleased and would highly recommend Barnett Home Decor to anyone.