Select Up to 5
Free Fabric Swatches
Many factors influence how colors appear, from differences in your screen settings, to differences in the ways individuals perceive color, to lighting and surrounding colors in your home.
We strongly recommend requesting fabric swatches before ordering home decor online.
Get Free Swatches
with 50 American-Made fabric options
Made in USA
Unlike some of our "Made in USA" competitors, who actually send pieces out to be cut or sewn in foreign countries, every step of our manufacturing process occurs at our own facility.
Our home decor is designed, cut, sewn, filled, finished, warehoused and shipped from our factory in the historic Bellevue Mills building in Macon, Georgia, USA.
A Tradition of Quality
Learn how we uphold our founders mission to craft a more durable, more resilient cushion.
Why choose Barnett Home Decor?
Established 1889
130 years ago we were famous for our mule collar pads, but for the last 60 years, we've been better known for our chair pads.
About Our Story
Woman-Owned
As a family operated business, we don't need to cut corners to please shareholders, we only need to please our customers with our quality.
About Our Team
Sustainable
Our latex foam fill is made from 100% pre-consumer recycled materials. We do not add chemical treatments to our products.
About our Products
Customer Reviews
11/27/2019
Sandra P.
United States
Micro-Suede Coffee Chair Pads
The chair pads are wonderful and the workmanship is excellent. I highly recommend Barnett Home Decor products.
10/08/2019
Yvonne H.
United States
Small company; Big value
Speaking as an ex-sewing instructor for 25 years, the product was sewn well, so I am pleased with this company. The ends of the ties are open, which I would have turned inward and stitched, but the the pad is high quality—thick, attractive, and protects my dining chairs. These are helpful, competent people, and their product is SOOO much better than the imports! You will be pleased with these pads!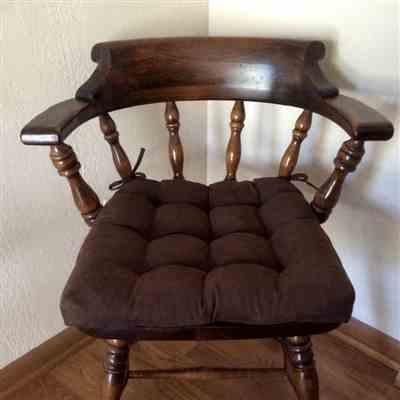 06/17/2019
Mary L.
United States
03/26/2019
Debra S.
United States
Excellent quality
These dining chair cushions are of quality construction, attractive material, comfortable, easy to clean, and we hope to use for years.
03/19/2019
Susan L.
United States
Chair Pad
This chair pad is exactly as it was described. It appears to be well made. I am using it as a rocking chair pad and it works well.