---
Our Black Ticking Stripe dining chair pads are made in a traditional ticking of black stripes on unbleached cotton - perfect for a farmhouse or traditional style decor!
Made in USA with American-Made materials & fabric
Latex foam fill for premium comfort, lasts longer than other foams and won't go flat (unlike polyester fiber fill)
Lock-stitched seams & triple-stitched ties for greater durability
Tufted with durable tacking-stitches, no buttons
Machine Washable, Air dry
Reversible to same fabric on both sides
Sizes & Dimensions
Approximate Dimensions
Size Standard: 15"D x 17"W x 2.5"H
Extra-Large: 16.5"D x 18"W x 2.5"H 
PLEASE NOTE: Chair not included; each cushion sold individually, this is not a multi-pack. Color may appear white, cream or ivory depending on the lighting in your home; online color appearance varies according to your device and settings; fabric swatches are available on request.​ Pattern placement varies. Size labels Standard and Extra-Large are provided as a general reference but are not to be solely relied upon for size selection; please measure your furniture and select size based on listed approximate dimensions. All dimensions are measured at widest points. This item is hand-crafted from pliable materials; please allow for slight variations of size & silhouette; dimensions are approximate +/- 1". Pattern placement varies.
Specifications
Content: 100% Cotton
Origin: Made In USA
About
"
Since 1889, Barnett Products has insisted on using the highest quality materials and superior construction methods to create a more durable product. Each of our cushions is Made in USA by skilled sewers, not mass produced by machine. We're confident our cushions are worth every penny, because they are proven to last years longer.
The comfort of our premium mattress-grade latex foam fill rivals more expensive therapeutic cushions, plus it will never go flat (unlike polyester fiber fill). In fact, our latex cushion is designed to recover from shipping, washing, squashing, or whatever adventures life has in store for it -just gently tug outwards on the corners of the cushion, then sit on it for awhile to help it return to its full size and original shape. Our generous 10"" ties are triple-stitched so they won't pop off when you scoot your seat. And we use durable lock-stitched seams, instead of chain-stitch seams (the string you pull to open a bag of dog food).
"
Customer Reviews
11/19/2019
Cathy B.
United States
Love the cushions, made very
Love the cushions, made very well good quality. I don' t think I could find anything better in a box store.
11/04/2019
Marie A.
United States
Just Right!!!
Complements my red kitchen chairs perfectly.
10/17/2019
MARY B.
United States
Great purchase!
When I found these cushions online, I was excited by the choice of colors. Sadly, I measured my chairs' surfaces wrong, hence, I ordered the wrong size. Barnett sent the cushions; then, they listened patiently to my phone call asking for help. It was easy to return the original cushions to Barnett. The correct size cushions arrived promptly. Barnett even worked me on shipping costs. Great company! Great product!
10/15/2019
Barb D.
United States
10/09/2019
Heather W.
United States
Excellent quality and craftsmanship
Love these chair cushions. I purchased 4 and have had them about 3 months. They've held up nicely and still look brand new. Highly recommend this product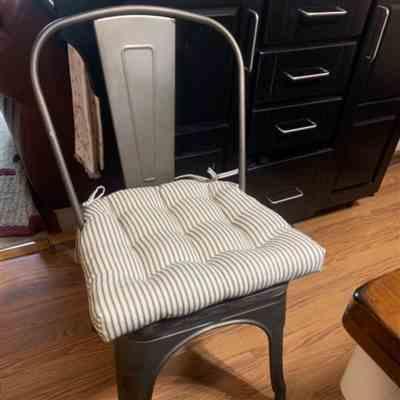 10/10/2019
Barnett Home Decor
Thank you for your review, Heather! If anyone is looking for cushions to fit industrial chairs we have 14" cushions that fit these tolix-style chairs and they tie in the center: https://barnetthomedecor.com/collections/industrial-chair-cushions/products/ticking-stripe-black-industrial-chair-cushion-reversible-latex-foam-fill