---
Rave Indigo patio chair cushions and indoor/outdoor dining chair pads are made in a solid color woven fabric with a sophisticated sheen in darkest blue.
Indoor/Outdoor: Fade resistant up to 1200 hours, mildew resistant & stain resistant
Made in USA with imported fabric and American-Made materials
Latex Foam Fill for premium comfort, lasts longer than other foams and won't lose loft (unlike polyester fiber fill)
Durable lock-stitched seams & triple stitched ties
Tufted with durable tacking-stitches, no buttons
Machine Washable, or hose off; Air dry
Size & Dimensions
Approximate Dimensions
Size Small: 15"D x 17"W x 2.5"H
Size Medium: 16.5"D x 18"W x 2.5"H
Size Large (NO TIES): 18"D x 20"W x 3"H
PLEASE NOTE: Chair not included; each cushion sold individually, this is not a multi-pack. Online color appearance varies depending on your device and settings; fabric swatches are available. Cushions may not fit all styles of furniture, please measure your furniture and select size based on listed approximate dimensions. Item may fade if exposed to more sun hours than fabric is rated to resist, store out of direct light when not in use for maximum lifespan; not intended for desert environments. Item is mildew-resistant but may mildew if not allowed to dry completely before storing. All dimensions are measured at the widest points. This item is hand-crafted from pliable materials, please allow for slight variations of shape and silhouette; Small & Medium dimensions are approximate +/- 1"; Large dimensions are approximate +/- 2". Pattern placement varies.
Specifications
Content: 100% Polyester
Indoor/Outdoor: Resists fading up to 1200 hours direct sunlight.
Origin: Made in USA with imported fabric
About
"
On the patio or by the pool, our replacement patio cushions look great and feel fantastic on your patio chairs and outdoor dining sets. Get ready for a backyard makeover, refresh your deck or improve the curb appeal of your front porch!
Since 1889, Barnett Products has insisted on using the highest quality materials and superior construction methods to create a more durable product. Each of our cushions is Made in USA by skilled sewers, not mass produced by machine. We're confident our cushions are worth every penny, because they are proven to last years longer.
The comfort of our premium mattress-grade latex foam fill rivals more expensive therapeutic cushions, plus it will never go flat (unlike polyester fiber fill). In fact, our latex cushion is designed to recover from shipping, washing, squashing, or whatever adventures life has in store for it -just gently tug outwards on the corners of the cushion, then sit on it for awhile to help it return to its full size and original shape. Our generous 10""-12"" long ties are triple-stitched so they won't easily pop off. Many competitors use cheap chain-stitch seams (chain-stitch is the string you pull to open a bag of dog food), but we insist on using durable lock-stitched seams.
"
Customer Reviews
10/21/2019
Jeanne C.
United States
You came to rescue on chair size fit
I had spent t hours searching on line for a cushion shape and size to work for our sort of barrel shaped deck chairs. You offered many shape & size options. Cushions are heavier & denser than we expected so these likely will last forever.
10/10/2019
gmwtwe@gmail.com H.
United States
Serves its purpose
The cushion are comfortable and cover the seat however they do tend to slip back leaving the cold edge of the chair uncovered.
10/15/2019
Barnett Home Decor
Thank you for your review and your feedback. These cushions are pretty good at staying in place on a wicker chair without ties, but if you have them on a plastic Adirondack chair or if for any reason they are slipping please try placing a slip of gripper shelf liner or rug liner, or a silicone trivet or baking sheet under the cushion. This solves the problem for us in the photo studio when we need to photograph a cushion on a steeply angled surface!
09/30/2018
Nancy J.
United States
Barnett Home Decor fabulous quality!
I am very, very pleased with both the blue chair cushions and the beautiful pine cone lumbar pillows I had purchased previously! In fact, I believe Barnett Home Decor to be an exceptional company and have never been anything but delighted with any purchase! I will keep coming back and will recommend to family and friends. Great fabrics, top notch workmanship, great design choices and perfect fit!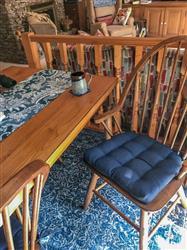 06/01/2018
Linda G.
United States
Nice Chair Cushions
I spent a lot of time selecting cushions for my breakfast area. The chair size was larger than all that I could find in stores. Also, most I found online were too small. I came across the Barnett Home Decor company by luck. They have a variety of sizes. They respond to email questions. They send you fabric samples upon request. I found the perfect cushions from them. In addition the cushions are excellent. They are much thicker than most and they retain their shape. I couldn't be happier with these cushions. I highly recommend them.
02/13/2018
MARCIA D.
United States
Beautiful, high quality cushions!
You graciously accommodated my request that we receive these cushions in time for our big family holiday dinners. Although we left shortly thereafter for a few months in warmer weather, I can tell you that everyone noticed the cushions, especially because they provided a better chair height with our big table. The fabric samples you sent quickly helped me select a color that coordinated well with both the wood on the table and the multi colored oriental rug in the dining room. I am very pleased and would highly recommend Barnett Home Decor to anyone.